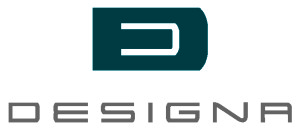 Our standard is success
At Designa, we are redefining the understanding of the parking technology field. Our highly trained engineers contribute their vast knowledge and innovation, so we can guarantee our customers the best possible products and technology. Each ABACUS system is carefully tailored to the customer's specific needs, making almost every system unique.
Whether you use terminals from our 120 family or our BlueEdition family, all ABACUS components are:
Optimally tailored to their function
Designed to ensure they interact smoothly
Unconditionally reliable
Impressive in their functional scope
Set the standard for scalability and adaptability to the future
The system has a modular technical structure, a cutting-edge terminal controller and is based on the consistent use of Ethernet standards, meaning that all system components are open for expansion, integration and networking. As a result it is possible to easily incorporate external alarm signals, information systems or databases into an ABACUS system. Plus, by using VPN (virtual private network), large-scale structures can be built extremely cost-effectively and large-scale structures can be built extremely cost-effectively.
Heart and brain in one. The multicon.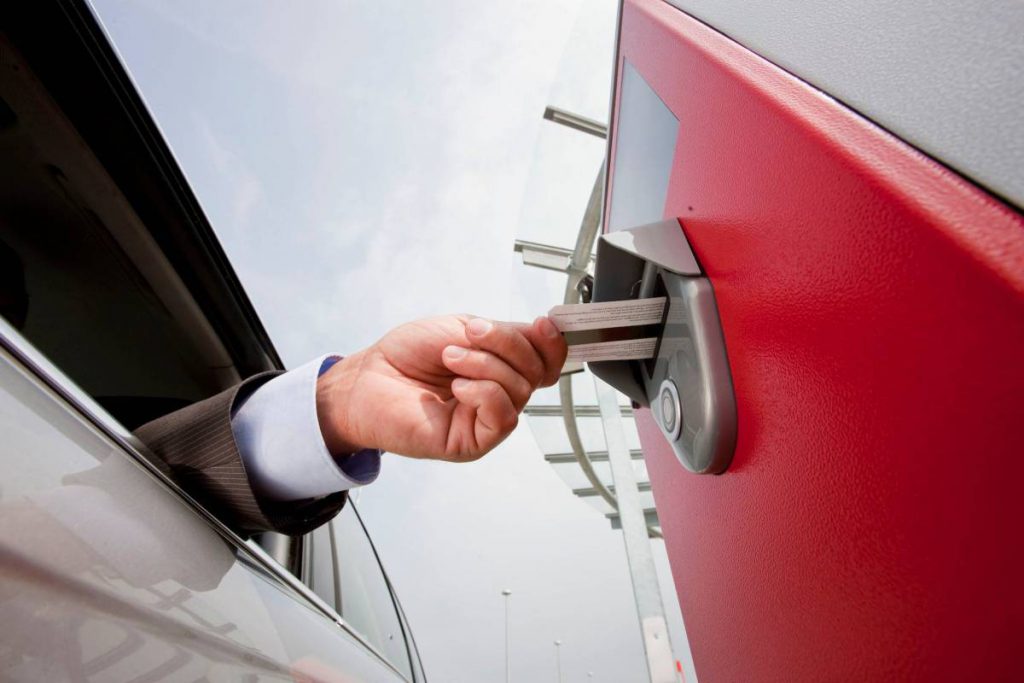 The brain is at the heart of ABACUS. Multicon, the intelligent core module for processing tickets and debit or credit cards, is redefining reliability. Key features are its optional range of functions and its extraordinarily high operating speed. But we would not be Designa if we had not also paid special attention to this module's ease of maintenance as well as all of its innovations. The quick and tool-free access to the ticket guide is therefore just as important to us as the maintenance-free, self-sharpening circular blade for cutting the paper tickets.
Two product families, one success story – 120 & Blue Edition.
While the 120 product family still guarantees reliability and efficiency, our BlueEdition impresses with additional services such as significantly reduced power consumption and an intuitively structured operating concept, best experienced with our revolutionary automatic pay station ONE. Our goal has been, and will continue to be, to consistently utilize technological change that will benefit our customers.
ONE – the unbeatable pay station from DESIGNA.
With the new ONE pay station, the perfect synthesis of design and functionality has made its way into the pay station marketplace otherwise dominated by the grey standard. ONE now allows Designa's passion for innovation to become externally apparent. An unparalleled harmonious design ensures a clean and modern appearance with a convenience of operation. Using self-explanatory icons on the gleaming front side panel, users are navigated step-by-step to the next item from the top downwards. Information and interaction are clearly separated from each other. The result is a completely different understanding of what operation involves. With the services it provides, the ONE pay station thus defines a new standard all its own.
Benefits of ONE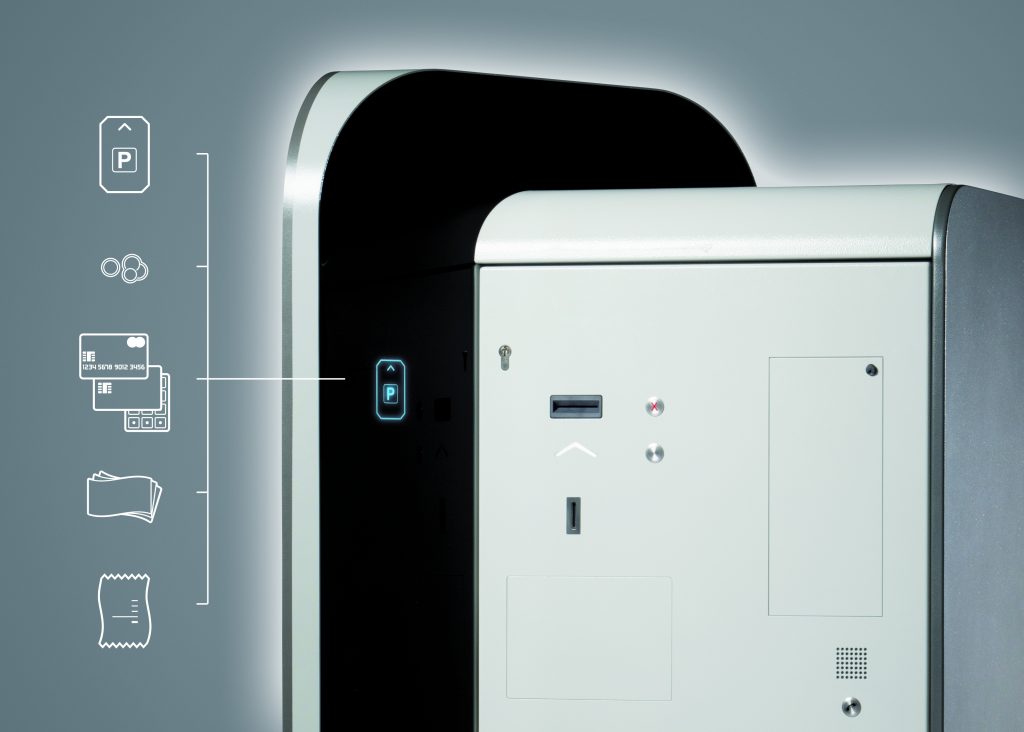 Perfect synthesis of design and function
A harmonizing design Unique convenience of operation with icons
Clear physical separation of information and interaction
Self-Explanatory icons, understandable in any country
Perfect incorporation into any surroundings thanks to being able to select the color
Detachable side panel to facilitate transportation and installation Intuitive operation for paying that much quicker
Low power consumption due to intelligent energy management
Corner element for protecting privacy
In & Out Terminals – efficiency lies in calmness.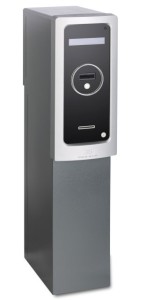 Our In & Out entrance/exit terminals have the lowest power consumption in their class by far. The new terminals are based on our tried-and-trusted ABACUS operating system and thus all state-of-the-art RFID and networking technologies. The innovative energy management system has the machine stay in sleep mode for as long as no vehicle activity is registered, and it only wakes up when a vehicle approaches the terminal, effectively reducing the energy required.
The design of the In & Out terminals has been influenced by the raised design of current vehicle classes, affecting the position of the ticket slot, and also by a drive to simplify maintenance and servicing work. Your operators no longer have to put themselves in danger standing on the tarmac to refill the terminals with tickets, for example, as the service access has been specially positioned at the side. The entire hood can now be removed for maintenance work so that every component is accessible from three sides. All of these innovations, together with ultramodern processor technology, have been packed into an aluminum housing with a high-quality finish. The terminals require very little space. The best proof that "less" is indeed sometimes "more."
In & Out Benefits:
Lowest energy consumption of their class
Future adaptability guaranteed from the ABACUS platform
Raised level of user-friendliness thanks to intuitive use
Illuminated ring effectively stops any irritation experienced during the operation
Heightened level of control panel to reflect today's car sizes
Optimized service and maintenance friendliness thanks to side accessing
Service hood fully detachable, technical units accessible from 3 sides
Little installation space required
Robust and resistant on account of a high-grade aluminum housing
Flexible authorization (magnetic strips, barcode, smartphone, RFID)
Easy ticket emptying thanks to the flexible bin
More tickets can be taken up, bin adapts itself to the fill quantity